Jobs Vibhaga is very advantageous for employers in recruiting best candidates/employees for their organization. Jobs Vibhaga is founded and started to make the best place for employers/organizations to find the best employees by providing very unique tools than other job portals on the internet at affordable prices.
Jobs Vibhaga is offering employer packages in very affordable & low prices, where everyone can buy in very simple steps through online payments or manual payments. Jobs Vibhaga is offering two kinds of job postings, one is Simple Job Posting (SJP) and the other is Premium Job Posting (PJP), where simple job posting is listed only on Job Listings page and other search results pages. But, the premium job listings stays sticky on search results, appears front than other job listings. Some other customized premium job listings are promoted on Jobs Vibhaga's homepage, as shown below in the screenshot.
Screenshot: Find a Job webpage highlighting simple job listings. [Sample/Example listings]
Screenshot: Sticky Job Listings [only for example]
Screenshot: Premium Job Listings featured on Homepage. [Sample/example job listings].
As per our recent analytics and statistics, each job listing posted on Jobs Vibhaga receiving quick applications from the registered candidates and getting a good response from the employers.
Resume database access is very advantageous for the employers, where they can view and access the candidates list and contact info or they can contact them directly. AS most of the experienced or skilled candidates will already get placed in their respective organizations, they don't frequently search for jobs and apply them on job portals, to avoid this, employers are provided with this kind of RDA feature. On the resume database access at Jobs Vibhaga, employers are provided with an advanced search tool with multiple filters, we can also view the list of candidates by sorting the latest updated resumes, with this we can analyze whether the candidate is searching for jobs or not.
Screenshot: Find a candidate Web page. [Sample/Example listings]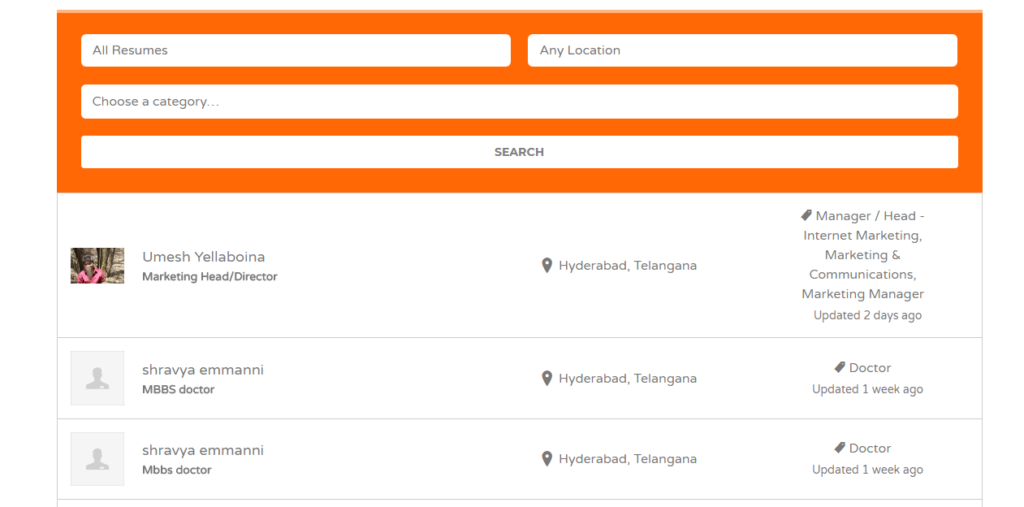 Screenshot: Sample Resume listing on 'Find a Candidate' web page – Highlighting Update Status time.
Screenshot: Sample Resume listing web page – Highlighting Update Status time.
Statistics is the very unique feature on Jobs Vibhaga, this feature is not available in any other job portals online by using this statistics tool employers can analyze the working/functionality of that particular job listing. After viewing the statistics results, can understand why the job listing is getting more results or why unable to get good results, or can apply A-B testing on job listings to learn and create best job listing.
Screenshot: Analytics of a sample job listing.
We are providing a unique dashboard to view and manage all the applications received from candidates for the job listings posted or can even download the applications from the dashboard in CSV format. Jobs Vibhaga's customer care is available all the time, can get a quick response from their staff or team. 100% satisfaction is guaranteed, and it is a very secure dashboard which is made following international security standards.
Employers can access the brief documentation about how to use this Job Portal. Very soon to launch video tutorials on their official YouTube channel.